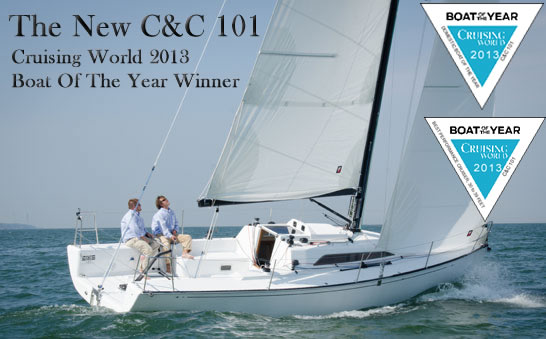 The all new Tartan 101 is fast, fun, and functional
From the bottom of her lead keel bulb, to the tip of her carbon fiber mast, the TARTAN 101 is designed and built to accommodate the discerning sailor. The TARTAN 101 offers a hull design that is built to maximize performance on the water and incorporates the most advanced boatbuilding technology in the market.
An ergonomic deck layout with a wide open cockpit and an easily handled sailplan eliminates the need for an army of crew and guarantees to put a smile on all those who sail her. A functional interior to meet the needs of overnighting and distance racing eliminates parasitic weight, minimizes maintenance and guarantees maximum time on the water. The Tartan 101 is fast, fun, and functional.
The Tartan 101 hull is designed to maximize overall performance without trending to any extreme, creating a boat that offers exhilarating performance on all points of sail. Her nearly 11 foot beam offers excellent form stability and in conjunction with the 6'6" bulbed lead keel provides the stiffness to support a sail area to displacement ratio of 25.8. With a BPA modified epoxy infused hull and deck, optimized uni-directional e-glass laminates, and synthetic hull coring, the 101 is the stiffest, lightest and strongest hull structure available in her size range amongst production builders.
The 101 features a fractional carbon fiber mast, carbon fiber rudder post and retractable carbon fiber bow sprit. Co-engineered by Tartan Yachts and SP Systems, the world leader in composite engineering and materials technology, the mast section is optimized to the 101 with careful attention paid to minimize weight aloft. The 101's carbon fiber mast is built using prepreg carbon fiber in aluminum tooling, and autoclave cured at temperatures of up to 250 degrees F and 100 psi. This yields a mast that weighs less than half of a comparable aluminum spar, yet is stronger and stiffer. With swept back spreaders led outboard to the hull sides, the 101 offers an impressive 671 square feet of upwind sail area without the hassle of large overlapping headsails. The retractable carbon fiber bow sprit and masthead asymmetrical spinnakers ensure exhilarating off wind performance while making the sailplan easily manageable when cruising or shorthanded.
Tartan's rakish deck designs have undergone a modern update on the 101. With wide side decks, trademark "slash" portlights, and classic Tartan styling she is unmistakably a C&C Yacht. However, from the back of the house aft, this Tartan has undergone a transformation. A nearly 12' long cockpit provides plenty of working room for the crew. Molded braces provide secure seating for the driver and main trimmer located well clear of jib trimmers and forward crew. For the first time ever, the 101 features a molded carbon fiber and composite tiller as standard equipment, providing the ultimate feedback and feel to the helmsman. When she is not on the racecourse, the forward end of the cockpit features molded cockpit seats and deep coamings that provide secure, comfortable seating in all conditions.
Below decks, the Tartan 101 offers refined luxury in line with her pedigree. Lightweight composite components combined with varnished cherry cabinetry and laminated curved trims provide a spacious and comfortable interior while minimizing weight. Bulkheads are attached to hull, deck and interior components using engineered adhesives and epoxy resins; adding stiffness to the hull structure without adding weight. Accommodations for six are available in the forward double cabin, twin aft quarter berths and main cabin settee. The nav station to starboard accommodates full navigation and electrical instrumentation with a full size chart table as an excellent working surface. The galley to port is fit with a two burner stove, large insulated icebox and deep stainless steel sink. Just forward of the main bulkhead is a large head with lightweight composite construction and molded in sink. Aerospace quality composites, modern construction techniques and careful attention to detail afford the 101 with an interior arrangement that belies her performance capabilities.
The latest addition to the Tartan line adheres to the core values that built Tartan Yachts into North America's premiere performance sailing brand while placing greater emphasis on performance. The resulting Tartan 101 is a modern racer/cruiser, with the emphasis on racer.

  Model: Tartan 101

  Manufacturer: Tartan Yachts

  Total length: 33'0″ / 10.00 m

  Maximum width: 10'11" / 3.4 m

  Weight: 3674kg

  Draft: 6'6″ / 1.98 m

  Fuel System: 75.7 litres

  Water System: 113.6 litres

  Sleeps: 6