Ten Top Reasons Why DORAL Is Your Smart Choice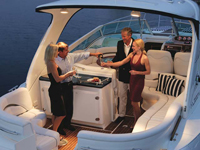 1. DORAL STORY
Doral have been building boats since 1972 and have gained a formidable  world-wide reputation in boat design, quality of build and craftsmanship.
2. DORAL WARRANTY
The Doral Protection Plus Warranty is Fully Transferable with a 10 Year Warranty on Hull & Deck, 2 Years on Engines, Upholstery, Canvas and  General Components and all boats are CE and NMMA Certified.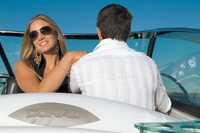 3. DORAL EUROPEAN DESIGN
The Doral Design Team has embraced European Design and Styling. Previously owned by Jeanneau Yachts of France, only the latest Technology and Naval Architecture, has been incorporated into the Doral  Model Range.
4. DORAL CORE GUARD
The balsa core sandwich construction ensures that all Doral Boats are rigid, ride better, are heat and sound insulated as well as light weight for better performance. This method is widely used for racing yachts, aeronautics and Formula-1 racing cars.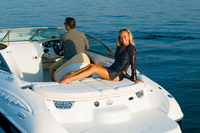 5. VOLVO OCEAN SERIES ENGINES
Pathfinder Marine has packaged up the latest Volvo engines with the new  lighter, low maintenance, high performance composite stern drives with stainless steel duo props and "Neutra-Salt" system as standard.
6. ELITE PLUS "ART OF LUXURY" PACKAGE
European "Art of Luxury" inclusions and fittings including; mahogany sun pads, acrylic green hatches, stainless steel anchors, LED lights, extended swim platforms, timber cockpit tables, designer fabrics and two tone hulls in a choice of colours are all standard.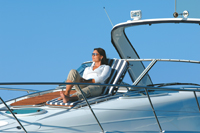 7. TIMBERWORK AND CABINETRY
All interior wood cabinets and timber work are completed on vacuum   benches by experienced craftsmen. The varnish work uses 7-9 layers of high quality polyester and polyurethane to achieve the unique high gloss finish.
8. THE CABIN LINER
A cabin liner is installed and attached to the hull using a "Plexus" bonding system. The liner increases the rigidity of the boat, gives greater strength and a better look, makes cleaning easy and provides a fibreglass floor that is rot proof.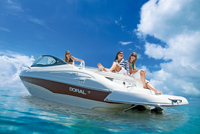 9. QUALITY INSPECTION AND TESTS
All Doral Boats are subjected to vigorous testing and quality assurance tests including water tests using high pressure showers and CE certified check on all electrical and mechanical systems.
10. AUSTRALIA WIDE NETWORK
Doral and Ausail Marine Group have created On Water Living Centres to ensure wherever you live or holiday in your Doral there's an authorised dealer/service centre near you.