Catalina Models – Catalina Capri 22 | Catalina Sport 22 | Catalina 22 MKII | Catalina 250 Wing Keel | Catalina 250 Water Ballast | Catalina 309 | Catalina 320 MKII | Catalina 355 | Catalina 375 | Catalina 387 | Catalina 400 MKII | Catalina 42 MKII | Catalina Morgan 440 | Catalina 445 | Catalina 470
---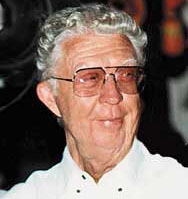 When I founded Catalina Yachts in 1970, my goal was not to become the largest sailboat builder in the United States. My goal was, & still is to build good
boats that are a good value for our customers. Accomplishing this requires
planning, efficient manufacturing (a part of the process I particularly enjoy)
& well designed boats. I believe Catalina's do well in a very competitive
market, because they are the result of listening carefully to our customers
& dealers. When we design a new boat, we don't try to reinvent the wheel
each time. We incorporate proven features with new ideas & a lot of boat
owners' suggestions. This gives the line continuity, helps us avoid overly
trendy styling, styling & insures good resale value for Catalina owners. At
Catalina we are especially proud of having the biggest percentage of repeat
customers in the industry. We are all committed to maintaining the high level of
customer confidence this represents. The Catalina philosophy means listening to
our customers & doing our best every day. On that promise the Catalina
family will continue.
Frank Butler, Catalina Yachts
---
Why You Should Buy a new Catalina Yacht!
Strength

Value

Lead keels standard
100% solid hand laid fibreglass
construction
Propellor shaft propulsion
Mast comes in single section
Catalina has manufactured over
75,000 yachts in
30 years

There are no hidden
optional extras
Features such as
240volt shore power,
refrigeration & anchor
winch are standard
A wonderful return on
investment – On
average, a Catalina
returns a higher
percentage of original
purchase than boats
from other
manufacturers. In
some cases, Catalinas
sell for more today
than they did when
they were new
About Catalina Yachts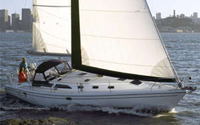 A visit to Catalina's Woodland Hills plant in the Los Angeles area is an eye opener. The enormous factory building, originally set up to fabricate Saturn rocket engines for the Apollo moon flight program, consistently runs at full capacity _ three shifts a day. At any given time there are approximately 60 cruising sailboats ranging in length from 17′ to 42′, making their way down the assembly lines in the main production area. Add another half dozen hulls still in the moulds _ bearing in mind, too, that Catalina also operates a second, sizable factory in Florida (the Morgan plant in Largo) and it becomes absolutely obvious that folks out there somewhere are buying new sailboats in serious numbers. Although this firm does not disclose its sales figures, Catalina is generally considered to be the country's largest sailboat manufacturer.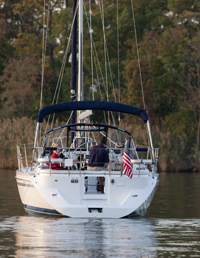 A secure company – Catalina Yachts has remained under the close control of its founder, Frank Butler, for nearly 30 years – no restructuring, no public stock issues. This fact alone makes the company a relative rarity in the boat building industry, especially the notoriously volatile sailing sector.
Team work – "A small company with a lot of employees" is how Gerry Douglas, vice-president and chief engineer at Catalina, sums up the overall structure of the firm. In effect, just three people – Butler, Douglas and sales manager Sharon Day "run" Catalina, whose work force averages around 350 people. Douglas and Day have teamed with Butler for over 20 years and continue to play critical roles in the company's development.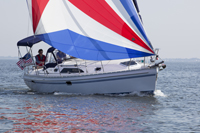 For such a lean management style to function successfully, Catalina's officers must spend a great deal of time on the shop floor. Company meetings are held periodically to discuss policy, but informal conferences with key employees are day-to-day events. "The input of the people who are hands-on is always the most valuable," Douglas explains, "and by and large, ours is a pretty free exchange".
Historically, privately owned boat building companies have tended to stay in business longer than those controlled by distant boards of directors. Clearly, an intimate knowledge of boating, boat building and the many idiosyncrasies of the marine industry are prerequisites for success in this field. All the same, few privately owned production firms have managed to keep their doors open as long as Catalina and even fewer have gained anything approaching the market share that Catalina currently enjoys. But, there's more to the Catalina story than micromanagement and private ownership.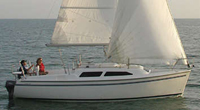 Excellent reputation – Catalina has an excellent reputation and stands behind the boats they build with a limited one year warranty on all parts manufactured by Catalina and a limited five year hull structure and bottom blister warranty. You can be secure in knowing the boats are well designed and built and that the leading sailboat manufacturer in American stands behind them.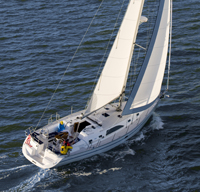 In-House Subcontracting – modern cruising sailboats incorporate all the mechanical, electrical and plumbing systems found aboard comparable powerboats and quite a bit more besides. Consequently, the glass parts make up a significantly smaller proportion of the total package in terms of both labour and cost. In addition to woodworking and upholstery (routinely handled in-house by many production boat builders), Catalina performs the majority of its keel casting, spar making, rigging, shipping cradle fabrication, metalwork, sail making and canvas work. Complex manufactured components such as engines, winches, and pumps are obtained from vendors but in production areas where major new capital investment is not involved, there's often money to be saved by making these items in-house rather than "outsourcing" them. Besides, Gerry Douglas cites the benefits of assured supply lines and reports that when purchasing "from the outside", Catalina routinely cultivates several alternative sources for each key item.
The company's sail loft has one of the largest computer cutting tables in the USA and while it only builds primarily Dacron mains and jibs the working sails they are computer designed and manufactured using the latest technology. An example of this is the attention to the finger panels which radiate from each of the reefing cringles. In 1995, Frank Butler employed Bill Peterson from North Sail Loft in San Diego to completely redesign and re-cut all the sails for the Catalina range. Bill Peterson is known to Australians as he was the number one sail maker on Dennis Connor's winning America Cup team in Fremantle. Even those with racing aspirations generally appreciate the factory sails for cruising and casual use. The Catalina spar shop fabricates straightforward masthead rigs with swaged terminal 1×19 wires. The more sophisticated, tapered masts seen on certain model are purchased from outside sources such as Z-Spars and Charleston Spars. Stainless steel pulpits, stanchions and other deck fittings are fabricated at a separate by nearby company owned facility. The working blocks are manufactured by US hardware manufacturer, Garberhauer. Winches and hatches are Lewmar, steering is Edson and the anchor winches are Maxwell in Auckland.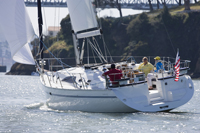 Although most production builders cut their own plywood wood components and teak trim, Catalina has taken its woodworking a step further. In addition to a substantial wood shop in the factory itself, there's a 30,000_sq_ft facility nearby where stock is processed and subassemblies prepared. Again, this provides opportunities for product differentiation. For example, cabin soles are plywood based, but are faced with teak and holly approximately 1/8′ thick. The aesthetic and practical advantages of this construction, which contrasts well with the thin veneer floors used by many competitors.
The benefit to you is cost savings, consistent quality and dependability – a boat that will provide years of trouble free sailing.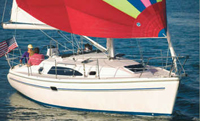 Product Development – According to Douglas, whose multiple roles at Catalina include that of head designer. "It's absolutely vital to build what the customer wants and not what you as an industry insider might want". He points out that dramatic, leading edge technology attracts media attention, but the average family sailor has a much more conservative perspective. The starting point for each new design is a "wish list notebook" in which Douglas records suggestions from boat owners. Butler, Day and Douglas all spend a good deal of time attending owners' rallies, dealers' meetings and boat shows. Douglas calls it "anecdotal market research" and despite the informality, it has obviously worked extremely well for Catalina. As a result of such input, the C320, for example, features a cockpit locker large enough to accommodate bicycles and the new C310 has a number of features requested by existing owners such as the Queen sized bed with inner spring mattress, top loading and front loading fridge and separate stall shower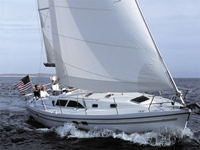 Hull and deck construction – The typical boat begins in conventional female moulds with an isophthalic gelcoat and skin coat. Decks are generally cored with balsa and plywood, while most hulls consist of a single skin lamination of conventional roving and mat. More and more, however, knitted biaxials are being used for reducing panel weights and for local reinforcement, particularly in the performance oriented Capri models as well as the Catalina "contemporary" series (C250, C270, C310, C320 C380, C400 and C470).
A molded hull liner, or pan, defines the interior layout and helps stiffen the hull: a comparable overhead liner finishes the underside of the deck molding. In many models, the hull liner incorporates aluminium angles in way of the chainplates and these, as well as the sprayed urethane icebox insulation are installed before the liner is secured to the hull.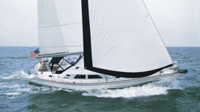 Fibreglass headliner – the molded, fibreglass headliners on all Catalina yachts are bonded into place while the respective hull and deck parts are still in the mould, by using a large number of metal weights strategically positioned to provide suitable clamping pressure. Vacuum bagging is inappropriate for this application because substantial clamping forces are needed in contact areas, but none where the pans are separated by air spaces. As the liners are fully bonded, this reduces condensation, they easy to care for, they look good and provide strength. The stipple look is designed to reduce glare.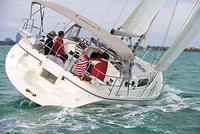 At Catalina, hulls and decks link up quite early in the production sequence, often before engines, systems and most wooden components have been installed. A corollary of this approach is that interior components must be designed to fit through the companionway. Not surprisingly, the companionway on most models is unusually large, a popular feature among owners in the mild California climate.
Unlike many other builders in the production sailboat field, Catalina favours a shoebox type hull-to-deck joint for majority of its models up to 42′ in length and reports excellent long-term success with it. A strip of plywood sandwiched between the upper margins of the hull molding and hull liner serves as a sheer clamp to stiffen the joint area and to "hold" fastenings. The vertical overlap area is bonded with polyester putty and mechanically fastened using a combination of through bolts and self tapping screws. The largest boats in the product line have a more conventional horizontal flange joint through bolted and sealed with polysulfide.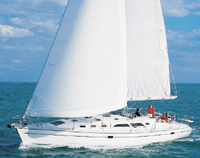 Fully battened main – the use of full length battens improves performance by controlling sail shape and stiffening the roach of the sail. The full battens also reduce flogging, thereby increasing the life of the sail, providing durability and value to the owner. The standard Dutchman flaking system ensures that when the main is dropped, it automatically folds itself right on top of the boom. It doesn't fall all over the deck and get in the visual way of the helmsperson. Makes dropping the main easy and safer.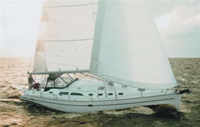 Large cockpit – the large cockpit provides ample functional space for the captain and crew to work underway, making the operation of the boat convenient and easy. Once you reach your anchorage or the dock, the large cockpit becomes a comfortable entertainment centre with plenty of space for friends to socialise and relax when the sailing day is over. Stern observation seats and exterior cockpit cushions are standard on all models.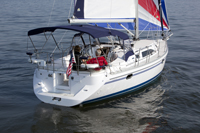 Walk-through transom with integrated swim platform and fold down, deep ladder – which are standard on every Catalina boat makes it easy and safe to get in and out of the water or dinghy. No more climbing up and down the side or wrestling with side boarding ladders. The deep ladder makes it easy to get in and out of the water, even for people with poor upper body strength and each rung has non-skid treads for safety. Snorkeler's and divers will really appreciate how convenient it is to transfer gear between the boat and the water when they can do it within inches of water level rather than trying to reach several feet up to the deck. The lowest part of the platform is just inches above the water, making is easy to hand SCUBA or snorkel gear in and out of the water.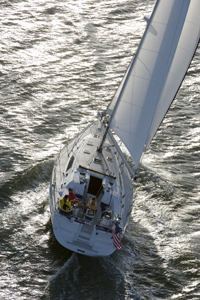 Pressure hot and cold water – Pressure water makes it easier and faster to fill a sink with water for cleaning than having to take the time to manually pump water from the tank. All the boats have a shower in the head and on the transom so crew and guests can enjoy the comforts of home when overnighting aboard. For people in and out of the water a lot, the pressure cockpit shower provides a comfortable, convenient way to rinse off before going below. This keeps wet feet and sand on the swim platform instead of in the cockpit or cabin. It also gives a great, quick, cooling rinse while underway on a hot day. The standard 240V shore power heats the water as well as the engine heat exchanger. This is convenient for owners whose boats are on a permanent marina.
Head sail furling system – on all models is Schaeffer a company that has been building furling systems for 25 years and exports worldwide. When comparing Schaeffer to some of the European models all the parts are aluminium and stainless steel with no breakable plastic parts. It is easy to furl and unfurl the headwall from the safety of the cockpit. The head sail can even be partially furled to reduce its area during a squall or on extremely windy days, also from the safety of the cockpit. No one will have to be on the foredeck to hank the sail on or off, or to do a sail change during bad weather. The sail itself has an ultraviolet cover along the exposed leech so that the sun cannot damage the sail when it is furled. This helps protect your investment in your sail.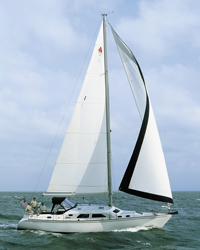 Warranty – the Catalina warranty has two parts. There is a limited one year warranty on any part manufactured by Catalina and a limited five year hull structure and bottom blister warranty. Both of these warranties are transferable within these time periods if the boat is sold. The benefits to you are security and value. You know there is a solid company standing behind an already dependable boat and the transferable warranty is an excellent tool to expedite re-sale.
Lead keels – Keels are external lead antimony casting, held in place by embedded stainless steel bolts. This compares favourably with many of the French and German boats which still fit cast iron keels as standard. Spade rudders with Edson mechanical wheel steering are common to almost all Catalina. The steering system is quadrant with cables which allows it to be tuned as the boat ages.
Auxiliary propulsion – most models have Japanese diesel Yanmar engines which are fresh water cooled and use propellor shafts with two or three bladed fixed propellors. Many owners fit optional feathering propellors. Some models are fitted with Westerbeke / Universal engines which are in fact made in the same Japanese factory as the Yanmar.