Catalina 309 Review – Cruising Helmsman (October 2007)
"HARD ACT TO FOLLOW"
Words by Caroline Strainig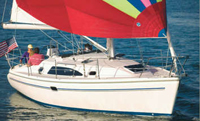 When the time came for mega US production-boat builder Catalina to launch another smallish boat around the 10m mark, the designers must have racked their brains until they were dizzy, and when they finished crossed their fingers until they cramped. The original Catalina 30 was the most popular family racer/cruiser ever –with 6000 sold between 1974 and 1995 – and there would be more than a few red faces if the new model didn't stack up well. Very well, in fact.
Reading the brochure, I saw that the 309 had won the Cruising World magazine domestic-boat-of-the-year within months of launching. Okay, so the designers probably kept their jobs, but I remained to be convinced. Just how good was this boat?
Full Masthead Rig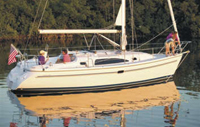 I liked the look of her. Modern, but not too modern, with a full masthead rig with twin straight spreaders, sloping bow and raised – but not excessively so – cabin top.
The major obvious difference between this model and the 30 is aft – a wider beam. This lets designers pack in the space today's buyer is demanding. Performance-wise, in theory more beam aft can improve downwind performance but potentially increase drag to windward, although most designers claim to avoid this due to clever underwater lines.
Sloping Bow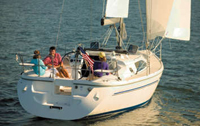 The 309 still has a traditional sloping rather than plumb bow, which we are seeing increasingly today. Plumb bows maximise waterline length for a given boat size and maximise hull speed, which is why they are so popular for racers and cruiser/racers.
In a sloping bow boat as it dips its bow into the next wave more buoyancy further for'ard comes quickly into play, causing a greater/quicker upward correcting force and thus limiting the amount of bow dipping.
Depending on how full the for'ard underwater lines are, plumb boats can tend to dip their bow further into waves than sloping bow boats. Designers compensate for this with fairly full bow sections so that they have the same resistance to plunging as a sloping bow boat.
Sail Plan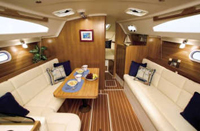 The sail plan is pretty par for the course: traveller on cabin top with most sail controls coming back to winches and jammers adjacent to the cockpit, with a pair of Lewmar two-speed 28STs on the cabin top for halyards and 34s on the coaming for sheets. The headsail is on a Schaefer 1100 furler and the furler line has been led aft, adjacent to the cockpit. A rigid boomvang, good-sized traveller and generous genoa tracks are other features.
Surprisingly in a boat this size, the Selden mast has in-mast furling as standard. Because the sail retracts there are no battens, and consequently no roach, so you are sacrificing a little in terms of ideal sail area and shape for maximum performance. Total sail area as standard is only 48.59sqm, but this is with a 100-percent jib, and most owners upgrade to a 135-percent genoa.
Wheel steering is another standard feature. Distributor Rod Mackay said he had never seen a Catalina over 8.7m with a tiller. I guess there is just not the demand in the US for them. A wheel means a pedestal – in this case an Edson – which gives you an ideal spot to site the Raymarine ST50 wind, speed and depth tri-data and the engine controls, plus something to which to fix the optional cockpit table.
Large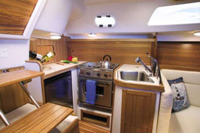 The 309's warm-weather Florida roots mean it was designed with a climate like ours in mind and the cockpit is large – you could even sleep on the seats. The seat backs themselves are fairly shallow when the optional cushions are on, but this is after all only a 10m boat.
Side decks are reasonably wide and only slightly cambered, with genoa tracks and shrouds well inboard, so going for'ard when it's rough should be relatively easy, aided by sturdy stainless-steel grabrails on the cabin top and a good non-slip surface.
Many European boats have a split pulpit and small seat/step for'ard to cater for bow-in-only access at marinas, but the 309 has a traditional closed pulpit. I prefer this because bow-in berthing without side access is unusual here and a closed pulpit offers greater security for the for'ard hand.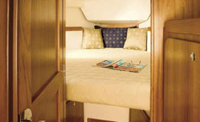 The anchor locker and bow roller are a reasonable size. Only a small plough and 10m of chain are provided, so you'd want to upgrade this for other than day-sailing. An anchor winch would be another worthwhile addition if you don't like weight-lifting.
Aft are twin pushpit seats, each with its own drink-holder. An adjacent section of fibreglass serves as a helmsman's seat and unclips to let
you walk through to the transom, where you will find a swimming platform with telescopic ladder (another improvement on the previous model) and a hot and cold deck shower.
Stowage is courtesy of a large cockpit lazarette to port and two small lockers aft for gas and general gear. Gas-wise, there is room for a four kilogram bottle.
The test boat had no sun/rain/spray protection, but a bimini and dodger with an infill are available for an all-up cost of $5500 and the boom was quite high-set so there should be no problems fitting them. Cabin top winches are also fairly inboard so you should be able to avoid the whacking-the-winch-handle­on-the-dodger problem.
Being only a 10m boat, space for'ard for a dinghy is limited and davits would be overkill, so an inflatable dinghy you store in the lazarette would be the go.
Performance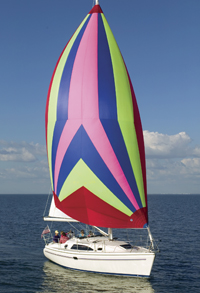 Catalina describes the 309 as a "wholesome family racer/cruiser combining good performance and great accommodation with contemporary lines and style". The test boat had the optional 135-percent genoa, and at no time did we feel over-canvassed in the
BELOW The for'ard cabin boasts a good-sized V-berth with a large hatch and stowage. BELOW RIGHT Those on galley duty can wedge themselves in securely.
under-10-knot winds we encountered, recording speeds in the high threes and mid-fours and pointing at up to 30° apparent. Under motor the three-cylinder shaft-drive Yanmar with two-blade fixed prop had us chugging along at a fair rate and having the engine controls on the pedestal made manoeuvring easy. The specs sheet quotes 1.9 lph at 2400rpm.
Below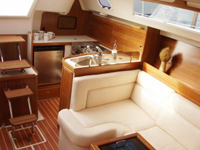 Again, fairly standard: V-berth for'ard, head just aft with hanging locker opposite, twin settees and dinette midships and at the foot of the companionway steps a U-shaped galley to port and nav station to starboard. A double berth aft to starboard under the cockpit completes the picture. I had no trouble making my way for'ard hanging onto something as I went.
Engine access is phenomenal: a three-sided cover simply lifts up and away to give access to the three-cylinder Yanmar diesel. You feel totally secure in the galley, which is U-shaped and has the companionway stairs/engine cover on the other side, so it's easy to wedge oneself in. I did have a bit of a question mark about the fiddles on the engine cover though. Imagining myself cooking, I immediately leant back to rest against the engine cover and then perch on it. I was quickly reminded that fiddles are not comfortable to sit on. The fiddles are a safety precaution for those descending the stairs, but I'd be modifying the one adjacent to the galley in the interests of your bottom line.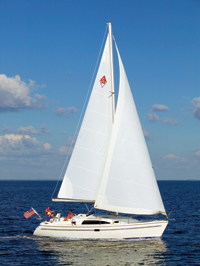 The 90L WAECO fridge with small freezer compartment should ensure good refrigeration for local cruising and an in-counter adjacent stowage compartment could be used as an ice-box. The cook will also be reasonably happy with the gimballed LPG two-burner stove with oven, in-counter stowage compartment for dry goods and crockery stowage above on the hull skin. The sink is deepish and inboard close to the centreline, so should theoretically drain even when heeling.
The V-berth and aft berth were a good size for a smallish boat and the 1.82m-plus volunteer who stretched out on them at my request looked comfortable.
The head is smallish but adequate. If you are one of those who haven't yet given up the battle to keep the sink/toilet area in a combined head dry, there is a curtain you can pull around you to contain run-off, but it would be a little cosy when shut. As standard you get a 64L rotomoulded holding tank with Y-valve. The 42L hot-water tank is heated by engine or mains power; you'll need to be frugal if you don't want things to go cold on you.
The 132L water tank is under the V-berth and the engine and house batteries (220 and 80 amp-hours) under the aft berth. You would want to add another battery, smart charger and supplementary power generation for coastal cruising, as is the case with the standard setup on most production boats.
The nav table is the usual small token item and most chart users would opt for the saloon table. The adjacent instrument panel is well labelled and an ICOM VHF radio and a sound system are standard.
The dinette table has a folding leaf on the starboard side, which – when raised – means you can reach the table from both settees. As an optional extra the L-shaped settee to port and table can be modified so you can covert them to a double berth.
Saloon headroom is 1.8m and opening hatches and halogen lights proliferate, so it should be a bright and airy boat to cruise. Those who want to remain bug-free will need to add screens and those who don't like getting up early curtains.
Decor is a mix of teak and teak veneers, beige headliner, the cream underside of the deck moulding, and whatever colour settee material you opt for.
Stowage-wise, there were quite a few nooks and crannies, but I'd be tempted to add a few more lockers over the settees instead of just open shelving, remembering the need to keep weight minimal and low.
Construction
Decks are balsa-cored with knitted laminates for strength, and the hull has a vinylester skin coat to limit osmosis. All rigging loads are tied into integral longitudinal structural aluminium beams. Solid fibreglass stringers and transverse structural members are an integral part of the hull. Interestingly, the transom is made as part of the hull mould rather than the deck mould, which was not the case with the old-model 30. This presumably means fewer joins in the close-to-water vulnerable areas.
Warranties are five years on hull and deck and 12 months on everything else. Fixtures and fittings are as per individual manufacturers' warranties.
You have a choice of a lead fin or wing keel – see specifications box for information on how this impacts on draught and stability.
Summary
I haven't sailed its predecessor, so cannot comment on the changes other than those I have read about, but this does appear to be a good, value­for-money boat. I didn't find anything obvious to make me think the overseas judges must have been out for a long lunch before they decided to give it a boat-of-the-year award, and the fact that 20 have already sold in Australia alone in the past year would seem to underline that.