$169,000. 2010 Model, Wing Keel, 40hp Yanmar Diesel, New Dodger & Bimini Combo (2016), 3.1m Swift RIB w/ 6hp O/B, Solar Panels, Maxwell Anchor Winch, In-Mast Furling Main, 135% Furling Genoa, Plotter, VHF, Wind/Speed/Depth, Fusion Sound System, LCD TV.… read more

The NEW Catalina 425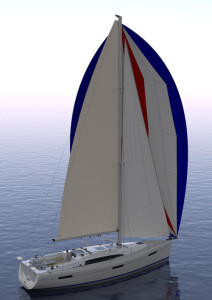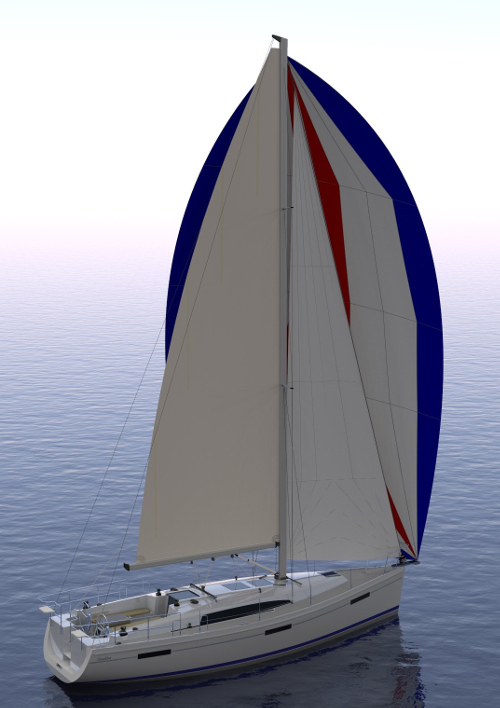 The 425 incorporates all of Catalina's hallmark features: a functional, spacious cockpit, a comfortable, carefully detailed interior, and all the 5 Series features that have redefined the Catalina brand.
The deck includes twin helms on performance pedestals with pre-stretched cables. The hull features six large fixed ports recessed into the hull for lots of light and visibility. A self-tacking jib and jib traveler are standard, and main and jib sheets are lead to the helm for efficient short-handed sailing. The forward owner's cabin features a large centerline berth with an elevating adjustable mattress. There are starboard and port aft cabins; the latter is easily convertible to a storage cabin with agull wing cockpit hatch. A central accessible mechanical space provides excellent access to primary engine, generator, water heater and air conditioners, which simplifies maintenance and inspections necessary for systems reliability.
Unique design features include a watertight StrikeZone™ collision bulkhead forward; DeepDefense™ rudder system for failsafe steering and a T-Beam MastStep™ structure, with all the benefits of a deckstepped mast and the strength of a keel-stepped mast. The SecureSocket™ mast support/chainplate system facilitates perfect load resolution and watertight integrity. Knitted fabrics create a stronger laminate without additional weight. Catalina's trademark lead keels absorb impact for safety and require less maintenance than other materials. All systems are designed following the recommendations and standards of the ABYC and IMCI to earn the highest rating of Category A – Unlimited Offshore.
The suggested base price of a Catalina 425 is US $262,900* with electronics and sails.
(*Prices subject to change without notice)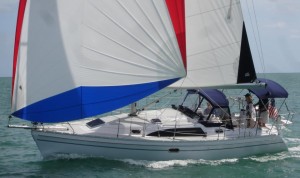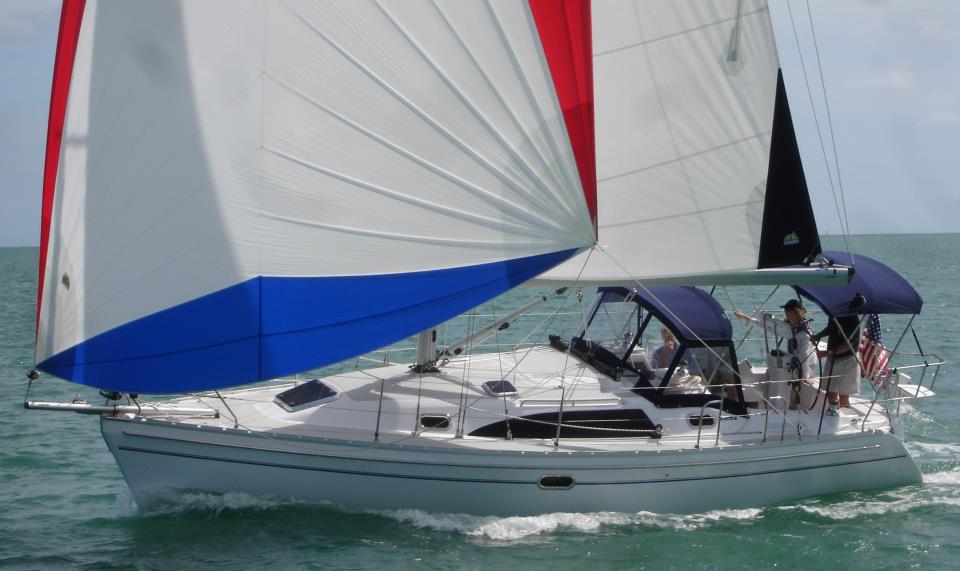 Catalina 315

Catalina 315 Winner – Cruising World Boat of the Year "Best Inshore Cruiser" 2013
Friday, December 9, 2012
Cruising World magazine announced today the winners of the 20th Annual Boat of the Year Awards. Decisions on the winners were based on extensive dockside inspections and sea trials of the boats. Read More… >>

Catalina 275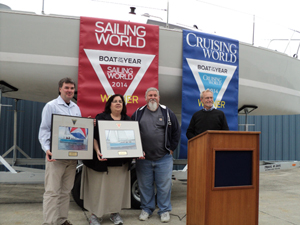 Catalina Yacht's newest model , the 275 Sport , was recognized this year with two prestigious Boat of the Year awards.
Cruising World Boat of the Year Award for "Best Pocket Cruiser " and Sailing World Boat of the Year for "Best Recreational Racer" were both won by the versatile new 275 Sport.
Publisher Sally Helme  and Dave Gillespie , Regional Sales Manager , visited the Catalina Yachts plant in Largo Florida to present both awards and congratulate the staff of Catalina Yachts on their 11th and 12th Boat of the Year awards.  "This is only the third boat to win both awards in the twenty-seven year history of the Boat of the Year Awards, and I am proud to see an American boat win in a field of excellent domestic and imported boats" Publisher Helme said.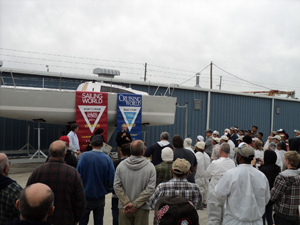 Catalina Yachts vice president and designer Gerry Douglas, of the Catalina 275 Sport accepted the awards on behalf the company.  In accepting the awards ,Gerry thanked  Plant  Production Manager Mike Quinn and other key personnel.  "It takes many skilled, dedicated people ,from the tooling department to final detailing to build good boats. I know everyone is grateful for the recognition of their efforts these awards represent ".
The Catalina 275 Sport was introduced at the 2013 United States Sailboat Show in Annapolis, and received an enthusiastic reception from Catalina dealers and owners.
This award winning model is now in full production.
Please note this new model is now available in grey(shown in the attached photos), light blue and white hulls

C&C Yachts – New C&C 101 Winner – Cruising World Boat of the Year "Best Performance Cruiser" and "Domestic Boat of the Year" 2013
From the bottom of her lead keel bulb, to the tip of her carbon fiber mast, the new C&C 101 is designed and built to accommodate the discerning sailor. Read More… >>

Tartan Yachts – New Tartan Fantail – Best Boats 2013, Sail Magazine
The past year has been a good one for small boats and daysailers, but even in a crowded field, the Tartan Fantail stands out as something special—a boat that is elegant, practical and, best of all, a whole lot of fun. Read More… >>

Sessa Marine – Luxury Yachts
Ausail Marine has been appointed by Premier Yachting, as Queensland dealer for the Italian-made 'Sessa' brand of prestigious motoryachts and cruisers to the boating public, with the Australian launch of the Sessa C38 at the Sanctuary Cove Boat Show in 2013.
Sessa Marine, a beautifully designed European marque that has made major inroads into the international market with its high-build quality and attractive modern lines.
While Sessa is renowned for its motoryacht range, with flybridge and sedan type designs from 40 to 70ft, it also builds an exceptional line of smaller cruisers including the C38, as well as Key Largo dayboats between 20 to 40ft and Dorado fishing boats. The North Italian builder employs 300 staff and manufactures more than 400 boats annually. See more at – www.ausailmarine.com/sessa-marine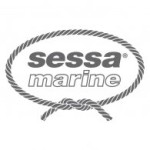 At Ausail Marine we believe that; apart from the very high-quality of all its vessels, the boats are very competitively priced and the Sessa range will certainly have an impact on the Australian prestige boat market.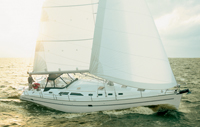 About Ausail Marine Group
In 1982, Norman Ambrose established the Catalina Yacht brand in Australia and to date remains the Official Importer of Catalina Yachts now under the Ausail Marine Group company. Since the commencement of business, Ausail Marine Group has now grown into one of Australia's largest Dealer Networks with offices in five states.
The Ausail Marine Group combines power and sail with the following brands represented by the group Catalina Yachts, C&C Yachts, and Doral Sports Cruisers and Yachts.
Ausail Marine Group have "On Water Display Centres" at Sanctuary Cove on the Gold Coast and Holmeport Marina in Pittwater plus have distribution with associated dealers in Melbourne, Adelaide and Perth. Ausail Marine Group is recognised as the home of Catalina Yachts in Australia and New Zealand.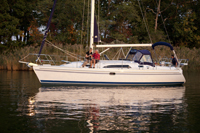 History Ausail Marine Group
Norman Ambrose and his team built a successful establishment incorporating the sale of new Catalina Yachts, with a busy yacht charter company, called Ausail Yacht Charters that specializes in luxury chartering on board a fleet of Catalina Yachts. Norman has won many awards over the years including the International Catalina Million Dollar Award for Yacht Sales. He has also been a board member with the NSW Boating Industry, a committee member and Chairman of the Marine Brokers Association, and has attained his Marine Brokers Association Accreditation.